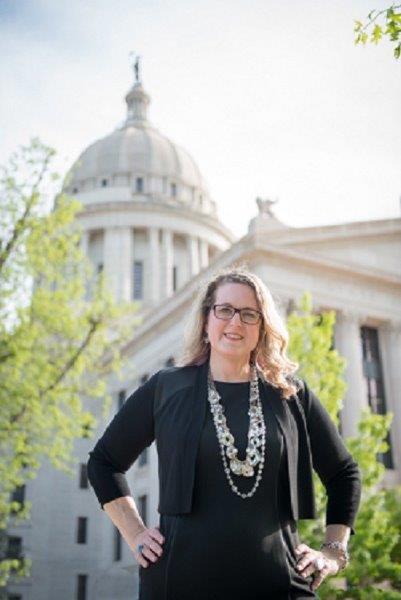 Canadian County Dems to hear Congressional District 3 Chair Sarah Carnes Sept 11
YUKON, Okla. – Sarah Carnes, Congressional District 3 Democratic chair, will speak to the Canadian County Democrats at their monthly meeting on Monday, September 11.
The Democrats' in person meeting is scheduled from 7-8:30 p.m. at the Yukon Police Department, 100 S. Ranchwood Boulevard.
Carnes is a lifelong Oklahoman and Democrat who is also an avid supporter of public education and creative artistic opportunities in school. She is a respected teacher with more than 25 years' experience in the classroom,
She was a candidate for House District 47 in 2018.
Carnes has been married to Jeramy Carnes for 24 years. The are the parents of two daughters, Savannah and Julienne.
Carnes graduated from the University of Central Oklahoma with her bachelor's and master's degrees.
She is the past president of Oklahoma Art Education Association and serves on the board of Oklahoma Alliance for Arts Education.
Carnes loves to travel, make art and volunteer for community events.
"My role as Congressional District 3 chair is to reactivate, reenergize and build strong relationships in 13 counties with Democratic messaging, community building, networking and recruiting candidates for office," Carnes said.
"Sarah is an outstanding member of the Canadian County Democrats who excels in the many challenges she takes on," Canadian County Democrats Chair Jody Harlan said. "We are proud that she was elected CD3 chair and are looking forward to her presentation on September 11."
Participants who want to join the Canadian County Democrats' meeting on Zoom may email chair@canadiancodems.org by Sunday, September 10, to request a Zoom link and code required to attend. This is necessary for security reasons based on interference in past meetings.
The CC Dems also livestreams meetings on Facebook at https://www.facebook.com/CanadianCoDems.
The Canadian County Democrats meet at 7 p.m. on the second Monday of each month, except December, at the Yukon Police Department, 100 S. Ranchwood Boulevard.
For more information, visit www.canadiancodems.org or email jodyharlan@gmail.com.