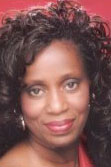 Congressional District 5 Chair rescheduled to speak to Canadian County Democrats August 14
YUKON, Okla. – The Canadian County Democrats rescheduled Rev. Christine Byrd to speak at their monthly meeting on Monday, August 14.
Rev. Byrd is pastor at New Life Baptist Church in Oklahoma City and is the new Congressional District 5 chair for the Democratic Party. The district now includes the northeast area of Canadian County.
The meeting, scheduled for 7-8:30 p.m. at the Yukon Police Department, 100 S. Ranchwood Boulevard, will also include discussion about candidate recruitment and reports on the group's Period Project, which provides feminine hygiene products to women and girls in need. Peggy Archibald will draw a winning raffle ticket for a handmade quilt. Proceeds benefit the Democrats' Period Project.
Prior to her election as Congressional District 5 chair, Byrd campaigned for state office and served as Oklahoma Democratic Party vice chair and party employee for many years, including a position as field director.
Participants who want to join the Canadian County Democrats meeting on Zoom may email chair@canadiancodems.org on Sunday, August 13, to request a Zoom link and code required to attend. The organization also livestreams meetings on Facebook at https://www.facebook.com/CanadianCoDems.
The Canadian County Democrats meet at 7 p.m. on the second Monday of each month, except December, at the Yukon Police Department, 100 S. Ranchwood Boulevard. For more information, email jodyharlan@gmail.com.
(###)