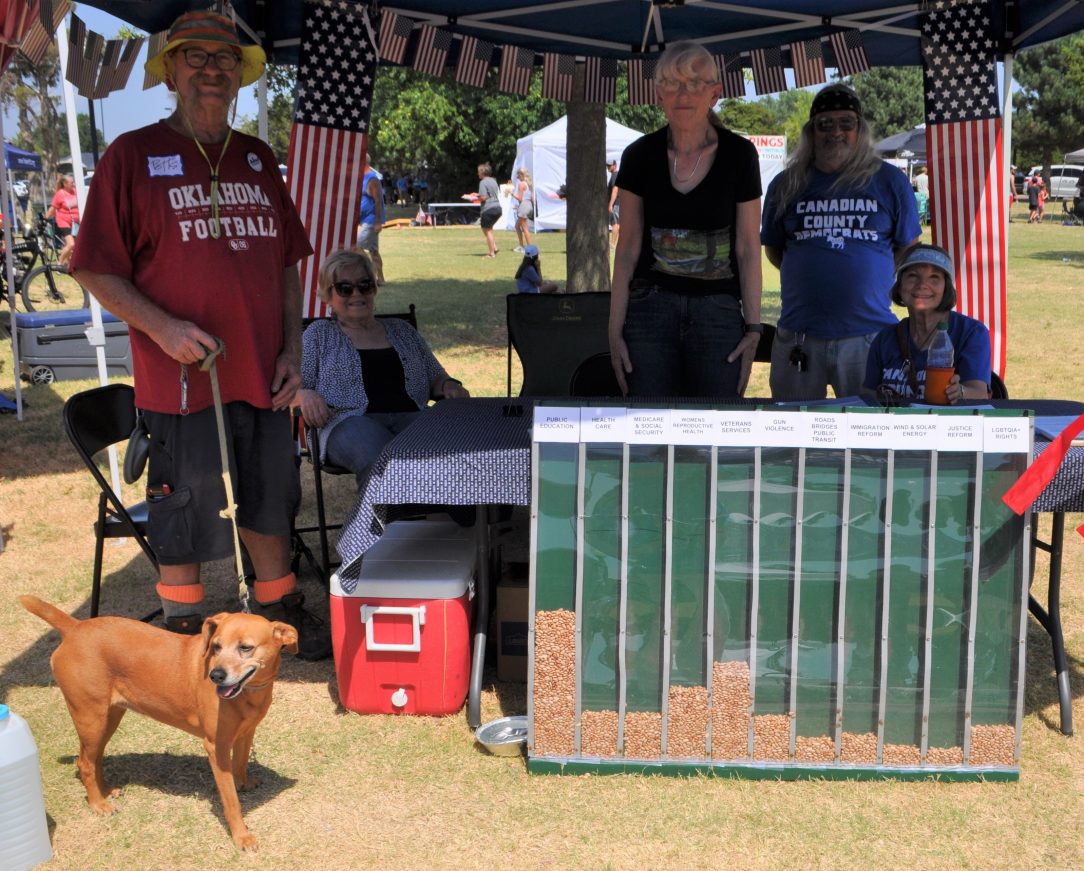 Top issue in Western Days opinion poll for 3rd year: public education
MUSTANG, Okla. – For the third year in a row, public education was the top issue at Mustang's Western Days with 21.2 percent of festival goers casting votes at the Canadian County Democrats' booth.
Hundreds of visitors stopped by September 9th to drop uncooked pinto beans into 11 slots separated by Plexiglas in a display known as the "bean poll."
Veterans' services were second with 16.3 percent followed by healthcare with 11.7 percent.
Women's reproductive healthcare and gun violence tied with 11.2 percent of the votes.
Voters picked Medicare and Social Security next with 7.1 percent and lesbian, gay, bisexual, transgender, queer, intersex, asexual and other rights with 6.6 percent of the votes.
Other issues in the poll included immigration reform 4.5 percent; wind and solar energy 3.5 percent; roads, bridges and public transportation 4.2 percent; and justice reform with 2.5 percent.
"We always promise to share our bean poll results with the media, but this year we followed up on a booth visitor's suggestion by also sharing the results with elected leaders serving Mustang and Canadian County," Canadian County Democrats volunteer Eddy Jackson said.
The Canadian County Democrats meet at 7 p.m. on the second Monday of each month, except December, at the Yukon Police Department, 100 S. Ranchwood Boulevard. The meetings are also streamed on Zoom and @canadian @canadiancodems on Facebook.
For more information, phone 405-326-3600, check out Facebook @canadiancountydems, Twitter at @DemsCounty or visit http://www.canadiancodems.org.
Caption: Canadian County Democrats pose with the display used to measure top issues at Mustang's Wc educationestern Days: (from left) Jim Potts with Ginger, Anita Rucker, Jody Gross, Eddy Jackson and Shirley Burton.
(###)