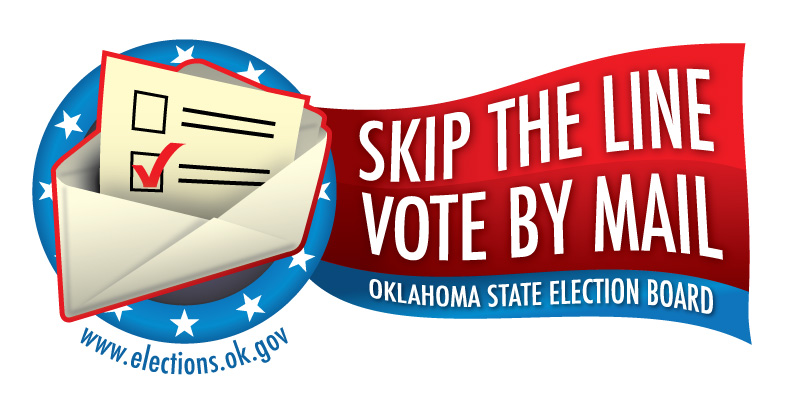 Canadian County Democrats' Voter Guide for Election on Nov 3, 2020
The Canadian County Democrats have endorsed seven outstanding Democratic candidates. We urge you to vote for them by absentee ballot or early vote before Tuesday, Nov. 3, or at your polling place on that date. Will you please say YES and ask five others to ask five more to join you in getting out the vote?
Please scroll down to meet your candidates and get information about voter registration, absentee ballots, early voting dates and websites where you can get more information.
Questions? Call/text Jody Harlan at 405-326-3600 or email hwinc@cox.net.
JOE BIDEN FOR PRESIDENT
KAMALA HARRIS FOR VICE PRESIDENT
Vice Pres. Joe Biden and Sen. Kamala Harris are ready and able to tackle challenges from coronavirus to a crashing economy and racial injustice. They will create new economic opportunities for workers, restore environmental protections and healthcare rights and renew international alliances. Joe Biden's Build Back Better plan will create 5 million new jobs in manufacturing and innovation. Now is the time to imagine and build a new American economy for our families and the next generation. Now is the time to vote for Biden and Harris.
Donate https://secure.actblue.com/donate/biden2020
Plan https://joebiden.com/build-back-better/#
Website https://joebiden.com/#
Facebook https://www.facebook.com/joebiden/
Twitter https://twitter.com/JoeBiden
ABBY BROYLES FOR U.S. SENATE
Award-winning TV journalist and attorney Abby Broyles is a lifelong Oklahoman from Bethany running to bring change to Washington. She's not afraid of hard work and is ready to hold Sen. Jim Inhofe accountable, although he has refused to debate her. Abby promises to bring people together to make a better life for Oklahoma families and has earned the endorsement of Sen. Elizabeth Warren. Abby has raised more than $1.5 million with the help of 19,000 contributors.
Donate https://secure.actblue.com/donate/abby-broyles-1!
Website https://www.abbybroyles.com/
Facebook https://www.facebook.com/abbybroylesforsenate/
Twitter https://twitter.com/abbybroyles
ZOE MIDYETT FOR U.S. CONGRESS – 3RD DISTRICT
Rancher and Red Earth Feed and Tack store owner Zoe Midyett was inspired to run by rural Oklahomans. As the nonpartisan alternative to a career politician, she champions issues central to the rural way of life, like healthcare and education. Zoe meets voters (following coronavirus safety guidelines) at fairs, parades and coffee shops and earned 20,000 Twitter followers in 24 hours. She grew up in a military family and supports fully funding the Veterans Administration, suicide prevention and Post Traumatic Stress Disorder treatment. When tornadoes strike, Zoe raises funds and delivers vet and medical supplies to help farmers stay in business. (You're in 3rd District in Canadian County unless you live in Mustang.)
Donate https://secure.actblue.com/donate/midyett-2020-1
Website http://www.midyett2020.com
Facebook https://www.facebook.com/Midyett2020/
Twitter https://twitter.com/zoecongress2020
MARY BRANNON FOR U.S. CONGRESS – 4TH DISTRICT
Mary Brannon will fight to protect OK schools, Social Security/Medicare/ Medicaid, veterans' medical care and transparency in government. Her priorities include affordable drugs and insurance that covers preexisting conditions. She will take back tax cuts for the rich who need to pay their fair share. In 2018, She earned 80,000 votes, the most ever against the incumbent politician in this race. Mary is endorsed by the OK Democratic Party Veterans Committee. (You're in 4th District if you live in Mustang.)
Website: http://electbrannon.com/
Facebook: https://www.facebook.com/Brannon4Congress/
Twitter: https://twitter.com/ElectBrannon
JENNIFER WILKINSON FOR STATE SENATE DISTRICT 45
As a a woman, working mother and member of the Cheyenne and Arapaho Nation, Jennifer Wilkinson will bring diversity and dedication to the state Capitol when she is elected to represent the people of the 45th District. She has served as an elected leader in her tribe and has extensive grassroots organizing experience under her belt. Jennifer believes that together we can address challenges facing families and accomplish goals that unite us.
Website https://www.jenniferwilkinsonsd45.com/
Facebook https://www.facebook.com/jenniferwilkinsonsd45/
Twitter https://twitter.com/jplumwilk
JUAN GARCIA FOR STATE HOUSE OF REPRESENTATIVES DISTRICT 57
The son of immigrants who became U.S. citizens, Juan Garcia was born, educated, and now raises his own family in western Oklahoma where a strong work ethic sets him apart from average political candidates. A former assistant district attorney, Juan is now a tribal court judge and private practice lawyer. He will make career tech and higher education more affordable, stop burying working families in debt, expand access to affordable health care, fix infrastructure and expand internet access.
Website: https://garciaforhouse.com/
Facebook: https://www.facebook.com/garciaforhouse/
BALLOT MEASURES
Yes on State Question 805 will limit extreme sentences for nonviolent crimes and save taxpayers $186 million per year. https://www.yeson805.org/
No on State Question 814 will redirect money from the Tobacco Settlement Endowment Trust Fund, but legislators could spend funds for whatever they want. https://my.lwv.org/oklahoma/voting/state-question-814
GENERAL ELECTION INFORMATION
Last day to register to vote: Oct. 9! https://www.ok.gov/elections/Voter_Info/Register_to_Vote/index.html
Deadline to request absentee ballot to vote by mail: 5 p.m., October 27!!! More info: https://www.ok.gov/elections/Voter_Info/Absentee_Voting/  Mail early. Sign your ballot. Either notarize or (due to COVID-19 emergency declaration) attach a copy of your legal ID.
Find free absentee voter services: https://www.ok.gov/elections/Notary_Services.html
You can vote early at the Canadian County Election Board, 200 S. Bickford, El Reno.
Thur, Oct. 29, 2020 – 8 a.m. to 6 p.m.
Fri, Oct. 30, 2020 – 8 a.m. to 6 p.m.
Sat, Oct. 31, 2020 – 9 a.m. to 2 p.m.
Use the https://www.ok.gov/elections/OVP.html to make sure you're registered, find your polling place, track your absentee ballot or view sample ballots.
For more information, check out the Oklahoma State Election Board's Frequently Asked Questions at https://www.ok.gov/elections/faqs.html.
(###)