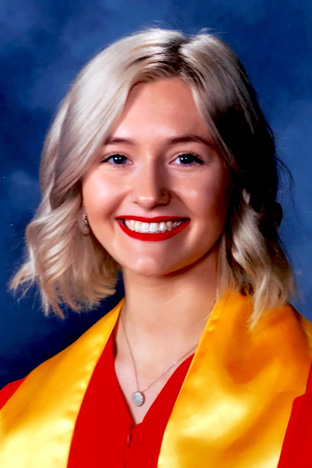 Canadian County Democrats award $500 scholarship to Mustang student
YUKON, Okla. — Lauren Smith from Mustang is the 2018 winner of a $500 scholarship awarded by the Canadian County Democrats.
The Robert "Bob" Burton Democrat Scholarship is named in honor of the deceased former county vice chair who encouraged young Democrats to become active in the Democratic Party.
This is the 11th year that Democrats have awarded the scholarship.
Smith is a graduate of Mustang High School. She is president of her school's newly formed Young Democrats organization and previously was elected vice-president.
"This year, my senior year, my goal has been to encourage political involvement among my classmates and friends," Smith wrote in her scholarship application. "I proudly campaigned for Steven Vincent (for Senate District 45 in 2017) during his candidacy, and have been involved with groups such as Moms Demand Action in personally speaking with representatives about common sense gun control."
Preventing gun violence was the top issue in an informal poll of Mustang High School students during a political involvement week, which Smith organized to commemorate the anniversary of the Columbine High School shooting on April 20, 1999.
"I plan to continue organizing these types of projects throughout college where I plan to be involved in student and throughout my life, in which I plan to always be a Democrat," Smith added in her application.
"Lauren is on her way to do great things," Sarah Carnes, Mustang High School art teacher and state House District 47 candidate, wrote in a nomination letter for Smith. "She is becoming a role model citizen while volunteering her time and working part-time as well."
"Lauren has been instrumental in expanding and improving political awareness at MHS, and she is equally impressive in the classroom," Justin Wilson, Student Council co-sponsor and Smith's Advanced Placement government class teacher, wrote in his nomination letter. "In addition to her commitments at school, she also spends numerous hours volunteering in her community, mostly at the Regional Food Bank."
Smith was a cheerleader and member of Student Council, National Honor Society and the Principal/Chamber Leadership Council.
She is employed at two part-time jobs at Uniform Destination and All About Cha.
Smith is the daughter of Jeffrey Smith from Mustang and Samantha Bell from El Reno.
She plans to study psychology and political science at Oklahoma State University.
Canadian County Democrats Secretary Shirley Burton chairs the scholarship committee with Vice Chair Dennis Purifoy and Laurie Hammons. Burton is the widow of Robert "Bob" Burton for whom the scholarship is named.
"The scholarship committee agreed that you are very worthy to receive $500 to assist you in pursuing your college education," Burton wrote in the letter informing Smith that she had won.
The Canadian County Democrats meet at 7 p.m. on the second Monday of each month except December at the Yukon Police Department, 100 S. Ranchwood Boulevard. The group is actively recruiting Young Democrats. For more information about activities, visit www.canadiancodems.org or phone 405-326-3600.
(###)