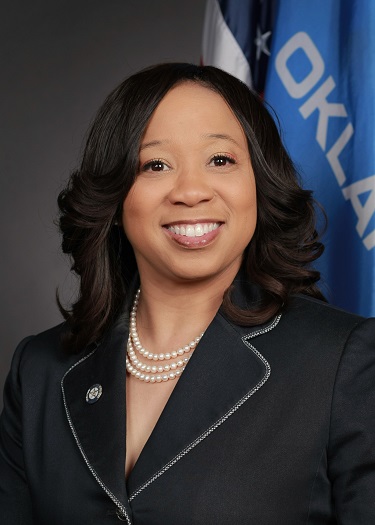 Lt. Governor candidate Pittman to speak May 14 to Canadian County Democrats
YUKON, Okla. – Democrats are invited to hear state Senator Anastasia Pittman speak to the Canadian County Democrats and friends on Monday, May 14.
Senator Pittman is running for Lieutenant Governor of the state of Oklahoma.
Seating is available on a first come, first basis for the free meeting held from 7 to 8:30 p.m. at the Yukon Police Department, 100 S. Ranchwood.
Senator Pittman was elected to serve the citizens of Senate District 48 in November 2014 and currently serves as assistant Democratic leader and minority floor leader.
She is the second Seminole citizen to serve in the Legislature and is recognized for her distinguished career in public service of nearly 20 years.
Senator Pittman is vice chair of the National Caucus of Native American State Legislators, regional director and vice chair of telecommunication for the National Black Caucus of State Legislators. She is a member of the National Foundation of Women Legislators Bylaws & International Committee, National Council of Legislators from Gaming States, and original member of the Quad Caucus of State Legislators.
Senator Pittman was previously elected in District 99 of the House of Representatives in November 2006.
She is the former chair of the Oklahoma Legislative Black Caucus and Oklahoma Native American Caucus and served as Democratic Whip.
Senator Pittman earned a bachelor's degree in journalism and public relations from the University of Oklahoma, and a master's degree in Urban Education and Behavioral Science from Langston University.
She has received numerous honors and awards including Honorary Tuskegee Airman of the Charles B. Hall Chapter, Honorary Buffalo Soldier, the Oklahoma Achiever under 40 Award, Outstanding Community Service Recognition for Magic Star Foundation from former President Bill Clinton and the Media Advocacy Award from the Oklahoma Coalition Against Domestic Violence and Sexual Assault.
Senator Pittman is married and has one daughter, one foster son, and three step- children.
"The Canadian County Democrats are honored to have Senator Pittman join us on May 14 to discuss the 2018 legislative session and her campaign for lieutenant governor," Dennis Purifoy, Canadian County Democratic vice chair, said.
The Canadian County Democrats regularly meet on the second Monday of each month (except December) at the Yukon Police Department at 100 S. Ranchwood Boulevard.
For additional information, contact hwinc@cox.net or 405-326-3600.