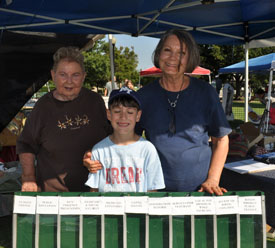 Public Education & Veterans services tie in Canadian County Dems' Western Days issues poll
MUSTANG, Okla. – Public education and services for veterans tied for the top issue, each earning 21.8 percent, at Mustang Western Days, according to an informal issue poll taken by the Canadian County Democrats.
Hundreds of visitors stopped by the Democrats' booth on September 7 and 8 at Wild Horse Park to drop pinto beans into 11 slots separated by Plexiglas.
"We make the bean poll fun and encourage adults and kids to vote for the issues that matter most to them," Canadian County Democrats Vice Chair Dennis Purifoy said. "The poll is non-partisan and gives us a chance to visit with people who like being asked for their opinions."
The next most popular issues in the opinion poll were climate change with 10.2 percent and gun violence prevention with 8.9 percent followed by Medicare/Social Security with 7.9 percent of the votes.
The Democrats' poll included a three-way tie between lesbian/gay/bisexual/transgender/queer rights, immigration reform, and roads/bridges/public transit with each earning 5.9 percent.
Other issues in the poll included Medicaid expansion with 4.9 percent, equal pay/minimum wage increase with 3.9 percent and access to birth control with 2.9 percent.
The Canadian County Democrats meet at 7 p.m. on the second Monday of each month, except December, at the Yukon Police Department, 100 S. Ranchwood Boulevard. For more information, phone 405- 326-3600, check out Facebook @canadiancountydems or Twitter at @DemsCounty.
Caption: Canadian County Democrats (from left) Gayle Bridges from Mustang, Shiloh Meiki and his grandmother Shirley Burton, both from Yukon, asked people to cast votes with pinto beans for their top issues at Mustang's Western Days.
(###)