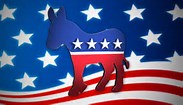 What is a Democratic precinct officer? What do we do?
The Canadian County Democrats' precinct meetings on March 14 are coming soon. Here are answers to frequently asked questions about precinct officers and opportunities to make a difference.
What is a precinct officer? A Democratic precinct officer is a grassroots volunteer who helps out in the neighborhood where he or she votes.
What does a precinct officer do? We organize and educate Democrats in our neighborhoods.
What are the main duties? We register Democratic voters, campaign for Democratic candidates in our neighborhoods and turn out Democratic voters in elections.
What do top precinct officers do? For geeks who like to dig deep, the Oklahoma Democratic Party has provided a comprehensive list of duties and responsibilities at https://tinyurl.com/y62hrbe4. It can be overwhelming. Think of this list as a menu with options for you to consider and choose.
What if I don't have much time? That's OK. We have volunteer opportunities for everybody. We need everybody. Some people just want be called to participate in events or vote in elections. Others lead activities like our school supplies give-away or spring scholarship project. That's OK. We don't expect anybody to do all the things on the list. Just use it for inspiration, and start making a difference!
More info about the precinct meetings & county convention: http://canadiancodems.org/2019/02/canadian-county-democrats-to-elect-local-officers-march-14/.
More info about precinct officers: https://tinyurl.com/y62hrbe4.