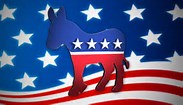 What does the OK Democratic Party stand for? Read our Constitution & By-Laws
Check it out before our precinct meetings on March 14 and County Convention on April 6! This information appears on the Oklahoma Democratic Party website at https://okdemocrats.org/odp-rules/. For political geeks who like to dig deep, this page includes more information about: 1) Roberts Rules of Order Cheat Sheet; 2) ODP Organization/Caucus Procedure; 3) 2017 Constitution: Rules That Govern the ODP; and 4) 2017 Bylaws: Rules That Govern the ODP.
"The mission of the Oklahoma Democratic Party is to elect Democrats and strengthen the Democratic Party.
The ODP reflects the solid values of the state it represents – honesty, hard work and compassion for those who are less fortunate.
We are the party squarely in the center of the political spectrum.
We know that less government is sometimes a better government and that government cannot solve every difficulty faced by our society. But, unlike the far right, we understand there is a role for government to play in finding solutions to our country's problems.
We firmly believe that government at every level has an absolute responsibility to encourage opportunity for success to all of its citizens. However government has no responsibility to guarantee success itself.
We believe in public education as the oldest and best method to improve the quality of life for all Oklahomans. We support improved funding for education at all levels coupled with meaningful reforms to ensure taxpayers get the most from every education dollar.
The record of Oklahoma Democrats in elective office is a prudent and moderate one which recognizes that economic development is business development. We seek to provide incentives for business and to free it from needless regulation. At the same time we are vocal advocates for the rights of working men and women and for protection of our environment. Democratic initiated programs such as the Oklahoma Quality Jobs Act strike a proactive balance between the needs of working families and the encouragement of business and job creation.
Oklahoma Democrats are committed to providing equal opportunity for families and communities to succeed by focusing on common sense solutions to improve the economy expanding access to health care and protecting public schools.
Democrats have overcome severe Republican opposition to several programs which are now vital cornerstones of many American households on fixed incomes including Social Security and Medicare. Democrats pride themselves on fulfilling promises made to our seniors veterans and children. We refuse to believe that corporate interests outweigh the interests of our families. However we are ready to examine every solution government has attempted to see if it is working – and to take a different course when one is dictated by reason.
Oklahoma Democrats are progressive and sensible. We are optimistic about the future and we are determined to see Oklahoma's traditional values upheld."