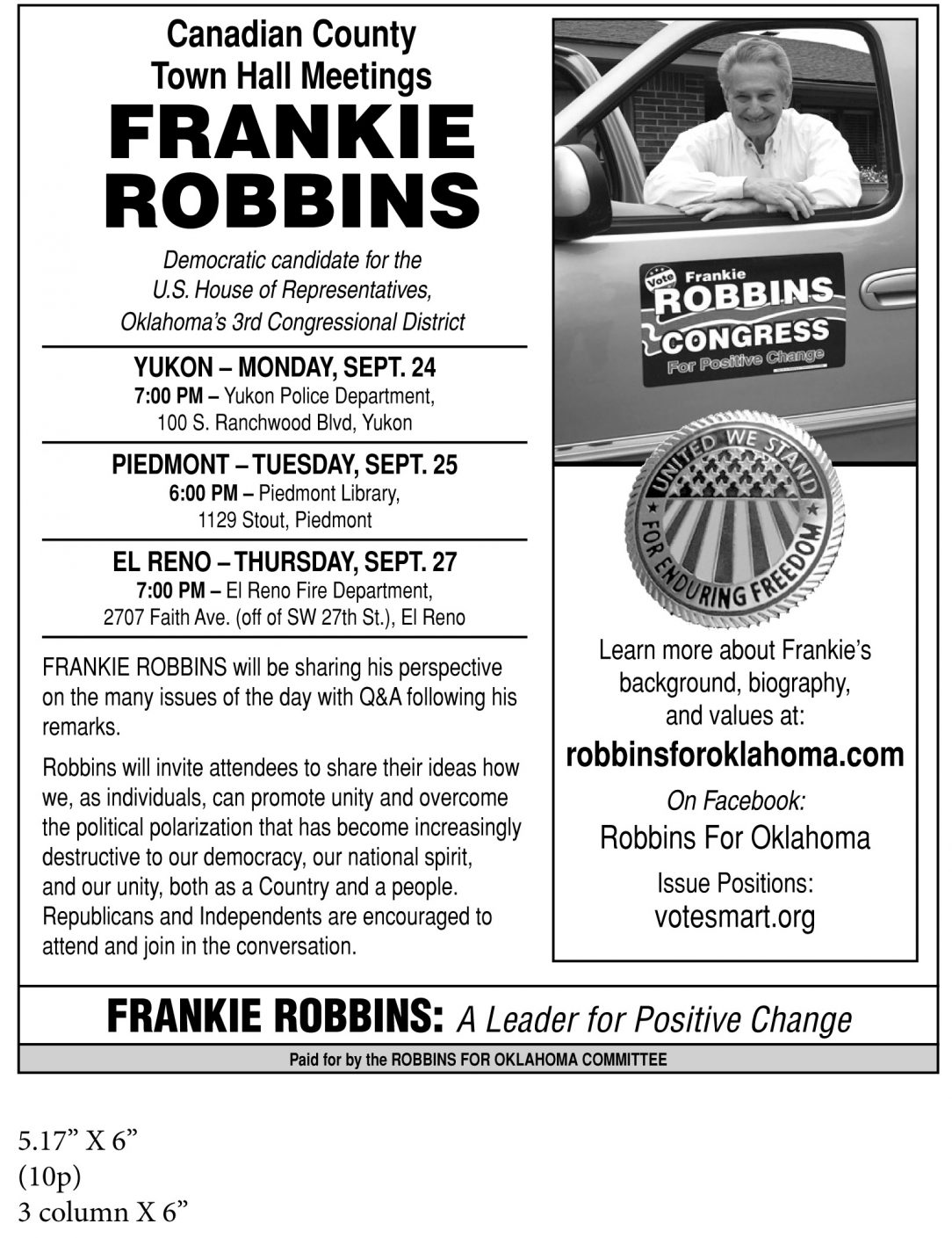 Town halls for Congressional candidate Frankie Robbins
YUKON, Okla. – The public is invited to town hall meetings in Canadian County with Frankie Robbins, Democratic candidate for U.S. House of Representatives for the Third Congressional District.
Robbins will share his perspective on current issues with time for questions and conversation following his remarks at three locations.
Yukon on Monday, Sept. 24, 7-8:30 p.m. Yukon Police Department, 100 S. Ranchwood, Yukon. Map: https://goo.gl/maps/48KZUSLGZc22
Piedmont on Tuesday, Sept. 25, from 6-7:45 p.m. at the Piedmont Library, 1129 Stout, Piedmont. Map: https://goo.gl/maps/JYG8yGi4w3B2
El Reno on Thursday, Sept. 27, 7-8:30 p.m. El Reno Fire Department, 2707 Faith Avenue (off of S.W. 27th Street), El Reno. Map: https://goo.gl/maps/J115esZqDFU2
"I'm running to restore the unity, trust and confidence in our politics, in our institutions, in our government, in our leadership and in our country," Robbins writes on his website http://www.robbinsforoklahoma.com/index.html
"I will be a voice for unity, and stand up for those who put our country, Christian values, family values and common decency above political loyalty."
Robbins is a third generation Oklahoman. He was born in Enid and raised on the family farm between Medford and Wakita where he lives today.
Robbins attended Medford public schools and graduated from Oklahoma State University with a degree in civil engineering.
He retired after a 32-year career with the United States Department of Agriculture Forest Service that allowed him to "stay connected to the land and to have an even deeper appreciation and understanding of our moral obligation to be good stewards of God's creation."
In 2006, Robbins returned to the 160-acre family farm in Medford "to give back and make a difference."
"Being retired, I can devote my full time and energy to serving and representing the people of Oklahoma.
Robbins raised two sons, Christian and Joshua, as a single parent and has two grand-daughters.
For more information about Frankie Robbins, attend the town hall, phone 405-326-3600 or check out Facebook @canadiancountydems
(###)