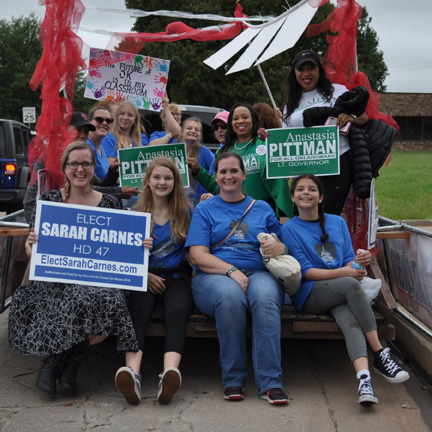 Teacher pay tops issues at Canadian County Dems' Western Days poll
YUKON, Okla. – Teacher pay was by far the top concern for 35 percent of Mustang's Western Days visitors, according to an informal issue poll taken by the Canadian County Democrats on September 9 at their booth at Wild Horse Park in Mustang.
Hundreds of visitors stopped by the organization's booth to drop pinto beans into 11 slots separated by Plexiglas.
"People seem to love our 'Bean Poll' – that's what we call it," Canadian County Democrats Secretary Shirley Burton said. "Adults and kids come by our booth to vote, and it often gets them talking about what matters most to them."
Democratic candidates Sarah Carnes, candidate for House District 47 in Mustang and Tuttle, Chantelle Cory, candidate for House District 43 in Yukon and Senator Anastasia Pittman, statewide candidate for lieutenant governor participated in Western Day.
The second most popular issue in the opinion poll was mental healthcare at 17 percent followed in Oklahoma budget at 12 percent.
Other issues included rising college costs at 9 percent, gun violence prevention and LGBTQ rights tied at 6 percent, fracking and climate change tied 4 percent; pay equity at 3 percent, and reproductive rights and earthquakes tied for last place at 2 percent.
The issues were chosen by Mustang High School students for a voter registration drive last spring and remained in place on the "Bean Poll" for Western Days.
The Canadian County Democrats meet at 7 p.m. on the second Monday of each month, except December, at the Yukon Police Department, 100 S. Ranchwood Boulevard.  All Democrats are welcome.  For more information, phone 405- 326-3600, check out Facebook @canadiancountydems