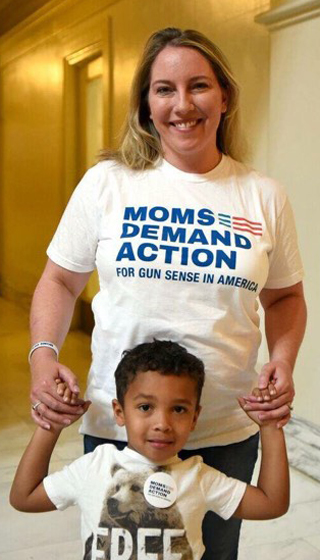 Moms Demand Action leader to speak at Canadian County Democrats' February 12 meeting
YUKON, Okla. – Jennifer Birch from Moms Demand Action for Gun Sense in America will speak to the Canadian County Democrats on Monday, February 12.
All Democrats and guests are welcome to attend the free meeting from 7 to 8:30 p.m.
This month only, the Canadian County Democrats will meet at the Yukon Library, 500 W. Main, due to a scheduling conflict.
The Democrats regularly meet on the second Monday of each month (except December) at the Yukon Police Department at 100 S. Ranchwood Boulevard. They will return to that location on March 12.
"Moms Demand Action for Gun Sense in America is a non-partisan, grassroots movement of Americans demanding common-sense solutions to the gun violence that endangers our children, families and communities," Birch said by Facebook Messenger.
Birch will cover those topics and offer "Be Smart" tips for gun safety:
• Secure all guns in your home and vehicles.
• Model responsible behavior around guns.
• Ask about the presence of unsecured guns in other homes
• Recognize the risks of teen suicide
• Tell your peers to be SMART.
"We do this work because every day, 93 Americans die from gun violence," according to A Moms Demand Action fact sheet. "We are part of the largest gun violence prevention organization in the country with more than three million supporters and a chapter in every state"
For more information, visit www.momsdemandaction.org  and www.BeSMARTforKids.org.
For additional information about the Canadian County Democrats, contact hwinc@cox.net or 405-326-3600.
(###)