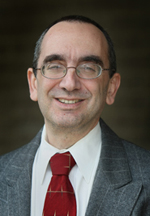 Oklahoma Policy Institute director to speak at Canadian County Democrats' January 8 meeting
YUKON, Okla. – David Blatt, executive director of the non-partisan think-tank Oklahoma Policy Institute, will speak to the Canadian County Democrats at their first monthly meeting of the year on Monday, January 8, 2018.
All Democrats and guests are welcome to attend the free meeting from 7 to 8:30 p.m. at the Yukon Police Department, 100 S. Ranchwood.
Blatt will provide a state budget update and focus on the main issues that the Oklahoma Legislature is likely to address in 2018.
January 8 will be the first time that Blatt has brought his unique political insight to a Canadian County Democrats' meeting.
"We are very pleased to have David Blatt kick off the new year at our first meeting," Canadian County Vice Chair Dennis Purifoy said. "He is widely respected statewide for the accuracy and validity of his research, so we expect to have a great crowd and encourage every interested Democrat to join us."
OK Policy promotes adequate, fair and fiscally responsible funding of public services and expanded opportunity for all Oklahomans by providing timely and credible information, analysis and ideas.
Blatt helped launch the think-tank in early 2008 and became and became the organization's executive director in 2010. His work involves conducting research, writing issue briefs and blog posts, and giving public presentations on state budget and tax policy, poverty, health care and various other subjects. He writes Prosperity Policy, a weekly column that appears in the Journal Record.
He has been honored as Political Scientist of the Year by the Oklahoma Political Science Association, Local Social Justice Champion by the Dan Allen Center for Social Justice and Public Citizen of the Year by the National Association of Social Workers.
Blatt previously served as Director of Public Policy for Community Action Project of Tulsa County and as a budget analyst for the Oklahoma State Senate.
He earned a Ph.D. in political science from Cornell University in Ithaca, New York and a bachelor's of arts degree from the University of Alberta in Edmonton, Alberta, Canada.
Blatt lives in Tulsa with his wife, Patty Hipsher, a special education teacher in Broken Arrow, and their son Noah.
The Canadian County Democrats' meetings are regularly held on the second Monday of each month (except December) at the Yukon Police Department training room,100 S. Ranchwood. However, the meeting on Feb. 12, will be moved to the Yukon Library, 500 W. Main, due to a scheduling conflict. The Democrats will meet again at the Yukon Police Department starting on March 12.
For more information about Oklahoma Policy Institute, visit https://okpolicy.org.
For additional information about the Canadian County Democrats, contact hwinc@cox.net or 405-326-3600.