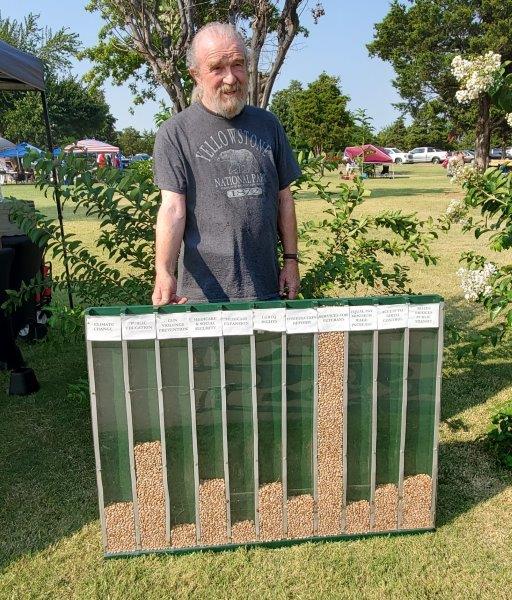 Veterans' services tops issues in Mustang's Western Days opinion poll
YUKON, Okla. – Services for veterans was the top issue at Mustang's Western Days, earning 31 percent of votes cast, according to an informal opinion poll taken by the Canadian County Democrats.
Hundreds of visitors stopped by the Democrats' booth on September 11 to drop pinto beans into 11 slots separated by Plexiglas known as the "bean poll."
Public education received the second most votes in the opinion poll with 14.5 percent, followed by Medicare and Social Security with 8.5 percent.
Lesbian/gay/bisexual/transgender/
queer rights tied roads/bridges/
public transit with 7.5 percent of the votes.
Other issues in the poll included access to birth control 6.5 percent, immigration reform 5.5 percent, climate change 6 percent and a tie between gun violence prevention and Medicaid expansion 2.5 percent.
"Our booth was busy all day, which proves that people like to be asked for their opinions," Canadian County Democrats Secretary Shirley Burton said. "It was a great day for us."
The Canadian County Democrats meet at 7 p.m. on the second Monday of each month, except December, at the Yukon Police Department, 100 S. Ranchwood Boulevard. The meetings are also streamed on Zoom.
For more information, phone 405-326-3600, check out Facebook @canadiancountydems, Twitter at @DemsCounty or visit http://www.canadiancodems.org.
Caption: Tim Wagner displays the Canadian County Democrats' bean counter used to measure opinions at Mustang's Western Days.
(###)