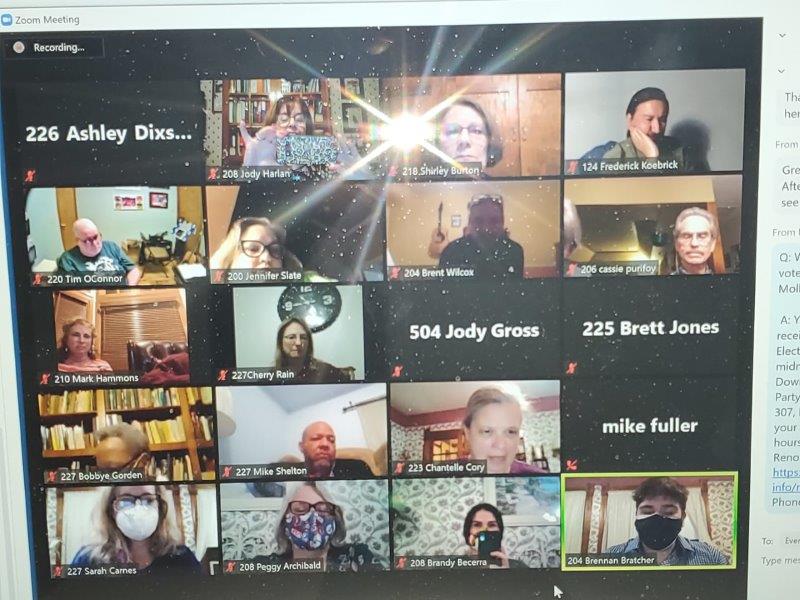 Mission accomplished! Canadian County Dems elect precinct officers
Precinct elections update
Twenty-eight Canadian County Democrats (listed below) were elected on 03/11/21 to serve as precinct officers for 2021-22.
Important: More precinct officers are needed! Read more about how you can help below.
There was no road map for the first-ever Precinct Meetings on Zoom, so we trusted Credentials Chair Chantelle Cory to guide us on this virtual journey.
Thank you to Rules Chair Dennis Purifoy, Resolutions Chair Mike Fuller and leaders on the credentials team: Peggy Archibald, Brandy Becerra, Brennen Bratcher, Shirley Burton and Bobbye Gorden.
Precinct officers elected at this meeting will be our voting delegates at the Canadian County convention at 2 p.m. on Sat., 04/03/21. Everyone is welcome to watch the meeting on Facebook Live @CanadianCoDems. Elected precinct officers will get a link to attend and vote at the meeting.
You are eligible to run for officer or delegate at the County Convention (even if you're not a precinct officer). We will elect county chair, vice chair, secretary, affirmative action female, affirmative action male and 13 delegates. They will represent CCD at the District 3 and 4 conventions on May 1 and state convention on June 12.
Important: Contact me at hwinc@cox.net if you plan to run so we can get you a link for the County Convention.
Contact Resolutions Chair Mike Fuller at mike.fuller.okc@gmail.com if you want to submit a resolution for consideration at the CCD convention
You can still be a precinct officer
Forty-eight of our 50 precincts still need chairs, vice chairs and/or secretaries. Goals: Elect Democrats and strengthen the Democratic Party. Interested? Please email your name, precinct #, street address with zip, phone and email address to hwinc@cox.net. Tell me what office(s) you will accept. Find your precinct # here: https://okvoterportal.okelections.us/.
Congratulations to our new precinct officers
100 Chair Malik Rochdi
124 Chair Fred Koebrick
200 Chair Jennifer Slate
200 Vice Chair Daniel Webber
204 Chair Brennan Bratcher
204 Secretary Brent Wilcox
206 Chair Dennis Purifoy
206 Vice Chair Cassie Purifoy
208 Chair Peggy Archibald
208 vice chair Michael Garretson
208 secretary Brandy Becerra
210 Chair Mark Hammons
210 Vice Chair Laurie Hammons
214 Chair Nina Miley
218 Chair Shirley Burton
220 Chair Kevin (Tim) O'Connor
223 Chair Chantelle Cory
223 Vice Chair Mark Nelson
225 Chair Brett Jones
225 Vice Chair Dyrinda Tyson-Jones
227 Chair Sarah Carnes
227 Vice Chair Mike Shelton
227 Secretary Cherry Rain
227 Committee Person Bobbye Gorden
504 Chair Joanne Gross
506 Secretary Gretchen Bullock
506 Chair Mike Fuller
506 Vice Chair Sheryl Fuller
Jody Harlan, Chair
Canadian County Democrats
405-326-3600 hwinc@cox.net