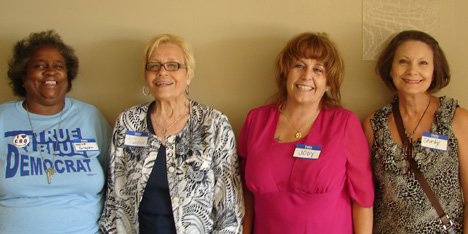 2018 Fiesta: Food, Fun and Candidate Forum
You don't want to miss this election year's Fiesta!
You'll hear dozens of top Democratic candidates at our annual Fiesta and Candidate Forum on Saturday, July 21. Find out what's next and how you can help them win. The festivities begin at 6 p.m. at the Canadian County Tech Center, 6506 E. Hwy. 66 in El Reno. Map.
Back by popular demand: catering by Cocina De Mino Mexican Restauranté.
Seating will be limited so be sure to get your tickets reserved now.
We depend on your support
The Canadian County Democrats do not charge dues. We do depend on your generosity to fund critical projects to help Democratic candidates win and strengthen our party all year long. Even if you can't attend the Fiesta & Forum, please consider a donation to help us:
Donate and volunteer for our Democratic candidates
Coordinate speakers at 7 p.m. on 2nd Mondays (except Dec) at 100 S. Ranchwood, Yukon
Fund $500 scholarship(s) each spring
Contribute to Oklahoma Democratic Party fundraisers
Distribute school supplies to lower income students
Provide refreshments for special events
Pay postage, printing and administrative expenses
Tickets
Due to rules pertaining to our venue, there will be NO TICKET SALES ON SITE. Order by mail or online.
Tickets can be reserved for a donation of $45 each if purchased on or before 7/15. The price goes up to $55 each after 7/15, so don't wait!
ONLINE RESERVATIONS
Use the button below and have your credit or debit card handy. You can reserve 1, 2 or 3 tickets online. If you need more, send via Paypal to the address donate@canadiancodems.org or contact us at that address.
POSTAL MAIL
Send a check made out to "Canadian County Democrats" and mail to us at Canadian County Democrats, 426 Poplar Ave., Yukon, OK 73099.
Again, no sales at the door!
Questions? Call 405-326-3600. Thank you in advance! See you on July 21!