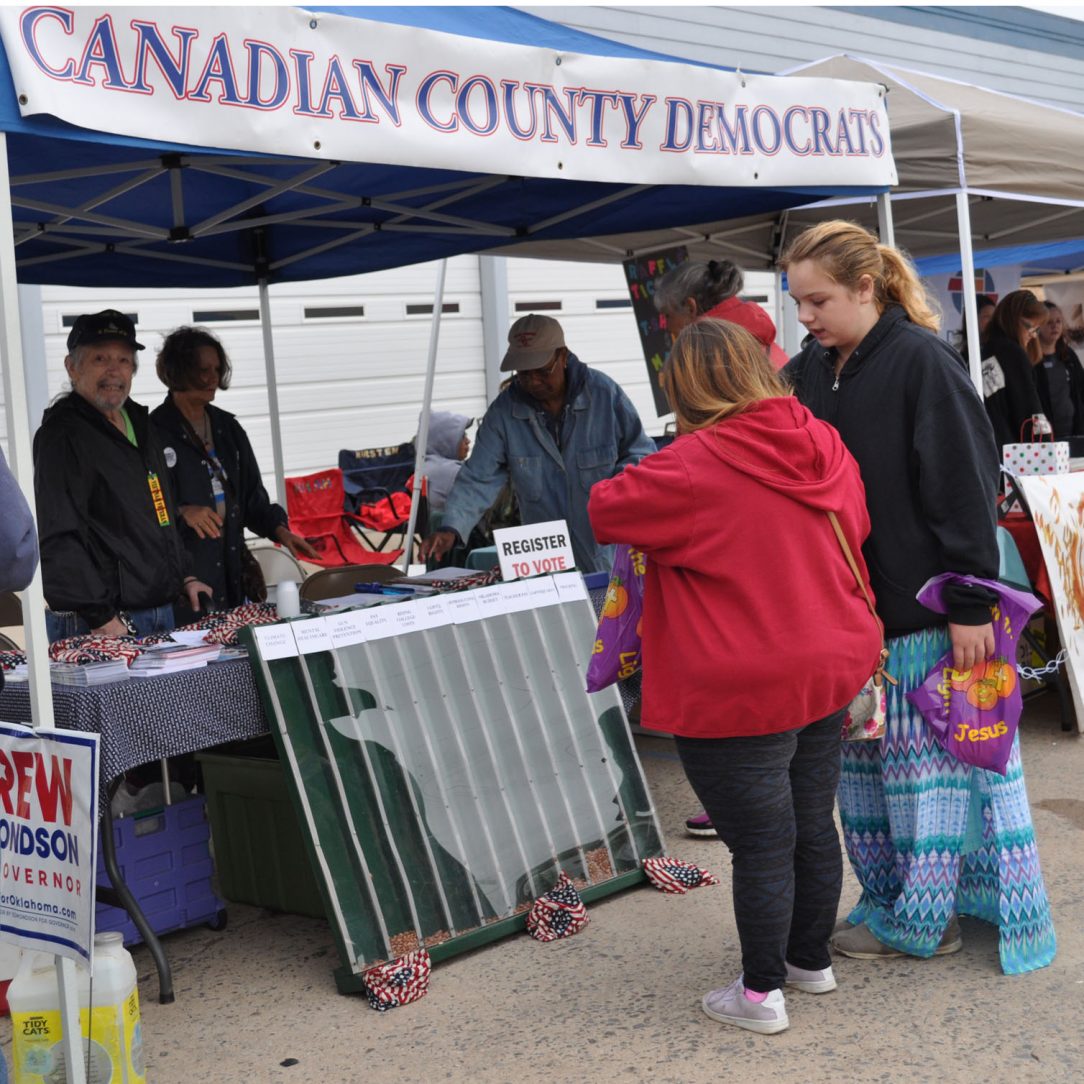 Teacher pay tops issues in Canadian County Dems' Czech Festival poll
Caption: Canadian County Democrats volunteers (from left) Charles Sanchez, Shirley Burton and Bobbye Gorden help Czech Festival visitors vote on their top issues at the Czech Festival.
YUKON, Okla. – In spite of the rain, Czech Festival visitors stopped by the Canadian County Democrats' booth on 4th Street to vote on their top issues. To participate, they simply dropped dried pinto beans into a home-made wood display with 11 slots separated by Plexiglas.
Teacher pay was the top issue for 40 percent of Czech Day visitors.
The second most popular issue in the bean poll was mental healthcare at 15 percent followed by a three-way tie between issues that each earned 8 percent of the vote: climate change, gun violence prevention and the Oklahoma budget.
Other issues included: Lesbian Gay, Bisexual, Transgender and Queer Rights 7 percent, rising college costs 5 percent; reproductive rights 4 percent; pay equality and fracking, both 2 percent; and earthquakes, 1 percent.
Mustang High School students selected the topics for this year's opinion poll.
"This was the fifth year that the Canadian County Democrats used our bean poll to rank the issues on people's minds," Harlan said. "It's free. It's a conversation-starter, and people seem to really like it, especially kids. We will definitely set up the bean poll at future events."
Democrats also designed a float for the Czech Festival parade and shared literature about the candidates they support for the mid-term elections on Tuesday, November 06.
The Canadian County Democrats meet at 7 p.m. on the second Monday of each month, except December, at the Yukon Police Department, 100 S. Ranchwood Boulevard.  For more information, phone 405- 326-3600 or visit http://www.canadiancodems.org.
(###)