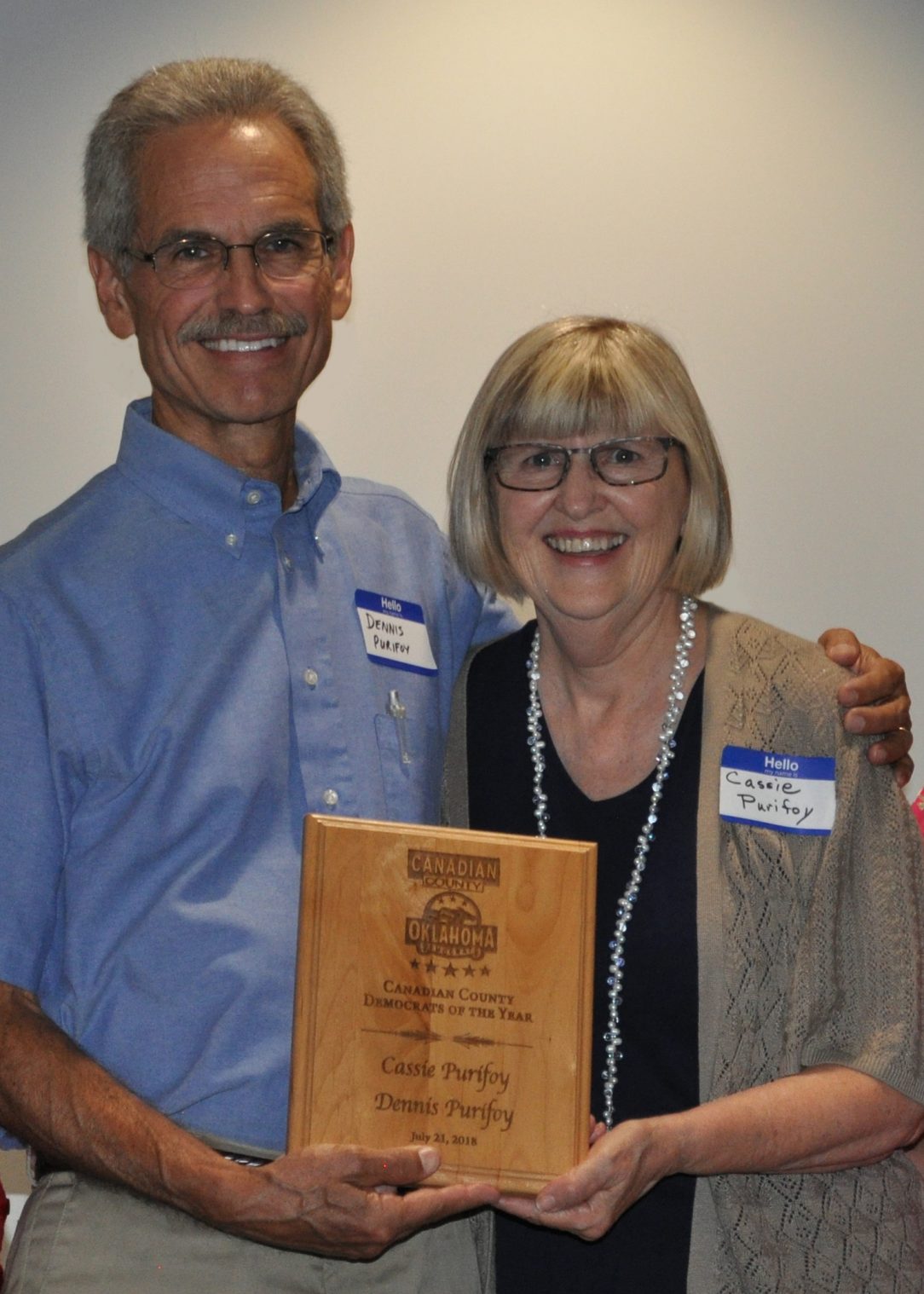 Yukon residents earn Canadian County Democrats of the Year honors
YUKON, Okla. – Oklahoma Democratic Party Chair Anna Langthorn, featured speaker Senator Michael Books and 16 Democratic candidates entertained 100 Canadian County Democrats during the annual Fiesta and Candidate Forum on Saturday, July 21.
Chair Langthorn, age 25, is the youngest Oklahoma Democratic Party chair in the history of the state and is believed to be the youngest state political party chair in the U.S.
Senator Brooks won a special election to represent Senate District 44 in Mustang and south Yukon in 2017. He was already re-reelected without an opponent for 2018.
The Democrats' 2018 scholarship winner Lauren Smith from Mustang spoke at the event about her success as chair of the Young Democrats at Mustang High School.
Vice Chair Dennis Purifoy and active volunteer Cassie Purifoy earned the 2018 Democrats of the Year honors at the event.
"The Purifoy's have generously shared knowledge about campaign finance, strategy and team building with new candidates," Canadian County Chair Jody Harlan said during the award presentation. "Their thoughtful analysis and action have enabled our Democratic Party forward to overcome political obstacles that once seemed insurmountable."
Democratic candidates who shared campaign strategies and plans for the future were:
William Andrews – Senate District 22
Jennie Butler Scott – House District 41
Chantelle Cory – House District 43
Sarah Carnes – House District 47
Tom Guild – Congressional District 5
Dr. John Cox – Superintendent of Public Instruction
Fred Dorrell – Labor Commissioner
Kimberly Fobbs – Insurance Commissioner
Blake Cummings – Corporation Commissioner,
Ashley Nicole McCray – Corporation Commissioner,
Mark Myles – Attorney General
Anastasia Pittman – Lt. Governor
Drew Edmondson – Governor
Frankie Robbins – Congressional District 3
Mary Brannon for Congressional District 4
Sara Peterson, candidate for House District 41, was not able to attend due to an illness in the family.
Two Independent candidates in races without Democrat contenders attended the event, but were not speakers: Daniel Pugh for Canadian County commissioner in District 3 and Charles De Coune for state Treasurer.
Tim Wagner, co-owner of Cocina De Mino Mexican Restauranté, catered the Fiesta
The Canadian County Democrats meet at 7 p.m. on the second Monday of each month (except December) at the Yukon Police Department, 100 S. Ranchwood. For more information, phone (405) 326-3600 or visit http://www.canadiancodems.org/.
(###)