Candidates, dancing and food at Annual Fiesta July 22 in El Reno
YUKON, Okla. – The Canadian County Democrats and friends will convene at 6 p.m. on Saturday, July 22, for their 2017 Fiesta with a fun concert by the Bean Supper Band.
Guests are encouraged to reserve their seats in advance for the party, which will be held at Redlands Community College Conference Center, 1300 S. Country Club in El Reno.
Representative David Perryman (Democrat – House District 56) from Chickasha will be the keynote speaker.
Democratic candidates who are expected to speak include: Michael Brooks-Jimenez, candidate for Senate District 44; Tom Guild, candidate for the Fifth Congressional District; State Representative and Minority Leader Scott Inman, candidate for governor; Former Senator Connie J ohnson, candidate for governor; and Steven Vincent, candidate for Senate District 45.
Brooks-Jimenez's race will be decided with a special election on Tuesday, July 11.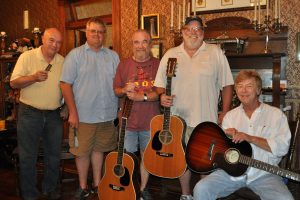 Tim Wagner, managing partner at Cocina De Mino Mexican Restauranté, will personally cater a gourmet taco dinner. Guests can a
lso enjoy a silent auction and entertainment by the Bean Supper Band, a group of Canadian County Democrats and friends that has performed at the annual banquet for nine years.
Band members are Tim O'Connor, Fred Rucker and Tim Wagner from Yukon; Worth Lambert from Kingfisher; and Ron Marlett from Bethany.
"The bands' name was originally based on the menu at our previous event," Canadian County Democrats Chair Jody Harlan said. "People kept calling to see if the bean supper band could play at other events so the name just stuck."
Dennis Purifoy is vice chair. Shirley Burton serves as secretary of the Canadian County Democrats.
Fiesta sponsorships and program ads are available.
Tickets are $45 through July 15 and $55 after that date and at the door. Advance registration is encouraged to allow event planners to prepare for an accurate number of guests.
For more information about the 2017 Fiesta, phone (405) 326-3600.